Sarah Wodin-Schwartz
"If I wanted an exercise to teach a concept in the classroom, it used to be 'How can I develop something to make that happen?' With Engineering Unleashed, I have a place that I can go to see what other people are doing in this area, and I can find some examples of techniques that have worked. I can use something directly, or I can take it and tweak it to make it my own. It is great having that repository of ideas that are out there."
Born in rustic Western Massachusetts, Sarah Wodin-Schwartz spent much of her adventurous youth exploring the woods, kayaking on rivers and gliding down ski slopes. Through these outdoor activities she developed a great love and respect for the earth and all of its marvels.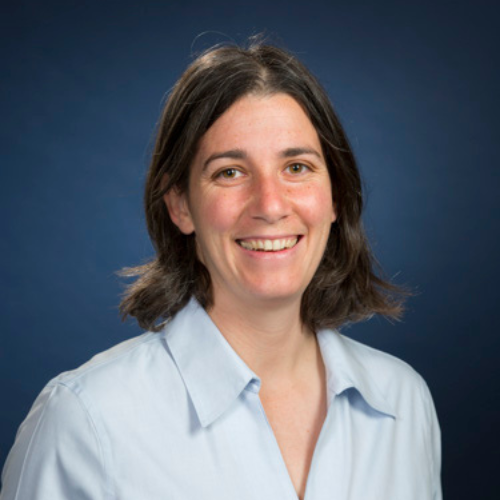 In her early classroom days, Sarah's teachers used fruit snacks and chocolate chips to help the students actively learn counting and the multiplication tables. The faster and more accurately the students completed their exercises, the more tasty rewards they earned. Sarah loved her fruit snacks, so she constantly strived to be at the top of her class. Even then she experienced the effectiveness of multi-sensory hands-on-learning.
As school progressed, the experiential learning methods created by her teachers continued. Team based domino challenges became more and more elaborate. At home, Legos became part of her own elaborate experimental mechanics laboratory. She didn't have much time or interest in TV, but when she did watch she was fascinated by characters like The Professor from Gilligan's Island.
The Professor (one of seven castaways on a desert island) created several useful inventions during the run of the show, employing only items found on the island. For example, he made a working battery charger using only coconut shells, seawater, metal strips and pennies. He also created a human-powered clothes washing machine, a lie detector, shark repellant, a Geiger counter, nitroglycerine and a hot air balloon. These fanciful creations ignited young Sarah's imagination as she dreamed that someday she would use her knowledge to help people in need by creating innovations from minimal resources.
She also studied her textbooks and did her homework, partly so she could get back outdoors. While most of her peers participated in traditional after school sports, four days a week she hopped on a bus and headed for the Deerfield River and nature's laboratory. As soon as she came of age, she took a job with the whitewater company and became a guide herself.
Being a curious observer, her many adventures taught Sarah a great deal about math and physics, and the practical application of their principles. Conquering the height of trees by learning the advantages of ropes and pulleys. Making split second decisions while kayaking–should she avoid the menacing jagged black rock or slide her kayak over it to jump a dangerous hole in the river's whitewater rapids? In skiing she learned to control her downslope velocity by sensing the changing frictional resistance of the snow; with her turns she'd make adjustments in balance and ski edge angle.
Most people would think she was honing her instincts through repetition of activities, but Sarah realized she was also developing a natural understanding of engineering beyond instinct. She wondered if others could learn in the same way.
Over time she developed the belief that the best way to educate, especially for engineers, is to blend lectures and textbooks with hands-on experiences.
"The most valuable engineers are those who know how to think and do," she said in a recent interview. "I grew up in an environment where the expectation was that my brother and I would go to college. I feel very privileged. [Working as a nature guide] is a really wonderful life to have with its incredible freedom, but I never expected that my career would be outdoor adventure. [Though, growing up] I didn't expect to be in academics either."

Sarah graduated from Smith for her undergrad degree, then went to Berkeley postgrad. She became a failure analysis consultant while getting her PhD. She had to decide if she wanted to continue in industry, be a researcher at a university, or teach.
"It was a difficult choice for me, but I decided that I really wanted to teach. I love working with students and I wanted to try to improve engineering education. I came to WPI ( Worcester Polytechnic Institute ) and am very active in the KEEN community. It was a great decision for me."
Joining WPI, she was back in her beloved Massachusetts walking on the same campus that helped develop greats such as rocket physicist Robert Goddard and inventor Dean Kamen . But as important, WPI's stated mission is to "provide an education that balances theory with practice," a great match for Sarah to explore her theories of improving engineering education through both lectures and experience.
KEEN's emphasis on experiential learning and the three C's (connections, curiosity and creating value) matches Sarah's interests very well. Through campus colleagues and ICE (Integrating Curriculum with Entrepreneurial mindset workshops ), she learned of KEEN's philosophies and the networks' many resources.
"My very first thoughts on KEEN were that everything is so polished I wonder what kind of substance there is underneath. And once I dug in, I realized there was a lot. I was impressed. They sincerely care about students and really care about making their experiences in college better. KEEN has figured out how to work with faculty in a way that supports students in a clear way."
With the support of her WPI colleagues and KEEN, Sarah was able to effectively apply her own ideas to the classroom where she conducts many hands-on projects, and constantly works to improve on them. Sarah says that her feeling each morning is "a mixture of excitement and anxiety. When a person lectures in the standard style of education delivery, they are transferring knowledge from a textbook and not putting a lot of themselves out there. When I have an activity in class, I spend a lot of time in advance figuring out 'how things can go wrong'. I may have a class of 90, and that's 90 different frames of reference."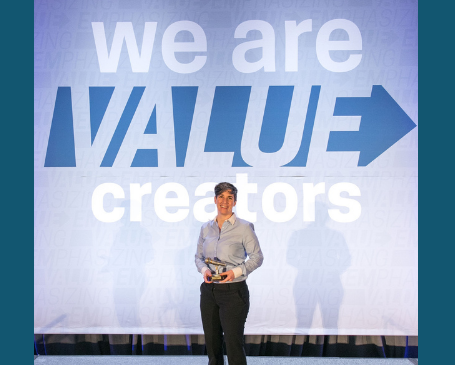 With hands-on activities, she says, "I can actually see the students learn. Walking around seeing all of the different ways the students are learning content in small groups. How things (in my Statics course for example) balance and work. I can actually see them make the connection between the problems they were looking at on paper and how it works in real life. That's exciting."
Sarah's teaching also opens the students' minds well beyond solving an academic exercise. She emphasizes how what they are learning can help create an impact in the real world, for real people.

"Helping students understand that the world is bigger than the campus, [helps them reach] beyond what they think is possible."
While they work on a problem right in front of them, they begin to make the connection that "there's a challenge people in another country are facing and we might be able to work with them to help. We live in a great country, but we are also part of a great world."