Connecting Entrepreneurial Mindset to DEI
Erin's experiences, investigation, and interest in Making led her to make connections between the entrepreneurial mindset and diversity, equity, and inclusion (DEI) for undergraduate engineering education. What were her first indicators that Making and the entrepreneurial mindset could positively influence developing impactful DEI goals?
"It was a whole spiderweb of stuff coming together," Erin recalls. "The first thing was: I hated giving tests. I had students who I knew had accommodations from the university, but the only accommodations they had were for extra test time and a low distraction environment. What do I do for them in a class that doesn't have tests? Surely the answer isn't 'nothing'! And here I am bringing the students to a Makerspace, and it might not be positive for everybody, especially if students are in need of low distraction environments, have a hard time working in groups, or have physical disabilities."
As Erin moved her class to a more project-based, hands-on approach, she thought of what it could look like from an accessibility standpoint. "I went down a rabbit hole of inclusive practices for Makerspaces. And since I spent so much time on it, I thought I needed to do something with it from a career perspective."
Erin used the pilot surveys she did in her 2020 Engineering Unleashed Fellowship for preliminary data in an NSF proposal called Building Capacity in STEM Education Research. That solicitation is aimed at faculty in STEM disciplines who want to get started doing education research, and propose a project and a development plan to develop themselves into an education researcher. "I got that funding, which opened the door for more reading and workshops specifically on inclusive STEM education. I'm sitting in these workshops where people are sharing best practices for inclusive and equitable classrooms, and I'm reminiscing on the workshops I went to for KEEN. There's so much overlap: If you're doing universal design, if you're doing student-centered learning, if you're providing opportunities for student autonomy and agency - you're developing all this mindset! I started digging into the literature on people who made this link, and not a lot of people have, so that was my moment where I said I'm going to make that link."
Erin feels fortunate she has colleagues also up for these ideas. "We started putting it all together in a more intentional way. We're doing these practices toward different goals, but how can we consolidate and package it together so we're working toward one outcome versus pigeonholing everything? We tied Mike Gross's student motivation pieces into how we were going to assess various things we were trying in class toward equity and inclusion. Lauren Lowman's Fellowship focused on creating more problem-solving studios that introduced students in underrepresented figures in STEM, so we were then running those problem-solving studios and doing student motivation profiles on a 'normal' problem-solving studio, a 'normal' class, and then a problem-solving studio highlighting diverse figures."
Working to Impact Students
Faculty do a lot of co-teaching at Wake Forest, so Erin has been able to co-teach with nearly everyone in her department. This includes developing the curriculum.
"We all came together to think about the four-year map. We tried to make intentional decisions about prerequisites that didn't exclude students, and keep our curriculum flexible. Around 50% of our engineering students are studying abroad; around 50% are doing undergraduate research. We have football players, soccer players; the big time athletes majoring in engineering , we have Art majors double-majoring or minoring in engineering, because we have strived for such a flexible, inclusive curriculum. That's our largest collective impact, I think."
It's also about growth - and failure. "I try to be a model of mindset and demonstrate it for my students, but also show them that you can't grow without failing. It's not going to happen. Failing doesn't feel good, but you can't have a growth mindset without it. You won't develop past a certain threshold without some level of discomfort, and we need to encourage students to lean into it instead of trying to resist. The entrepreneurial mindset provides a framework and vocabulary for us to talk about how to experience these things."

This includes the shift we've been seeing in society. "Education talks about fearless problem-solving and resilience, but you have to provide a safe space to do that. This is because while education wants these things, they're still so tied to your GPA. The two can't coexist. Watching that tension play out has been interesting. Helping students navigate that tension is an opportunity. That's entrepreneurial mindset in action."
Labture
We couldn't let the opportunity slip by to ask about Erin's unique coinage of terms.
"I was joking to students that in the very first week of instrumentation class, we're learning about things like Ohm's Law, Kirchhoff's Law, all the different units that go with electrical energy; people like Tesla and Edison. So I said, come up with a unit, a word, and publish it somewhere, and now it's yours! And then I did it myself. The 'labture' came from me running my mouth one day about having "lab" every day in class as part of their lecture, and then I had to put my money where my mouth was. We're going to have to put rubrics to it and grade it. I don't know what that is yet, but it's going to be a thing."
"The goal for this instrumentation class was I wanted them doing something hands-on every day," Erin continues. "I didn't want a single class period where it was only lecture, and I also didn't want it to be only problems like hand-calculation problem-solving, because we had a lot of learning we wanted them to do. So how to get all that done, the class time had to focus on the equipment available in class. We saved things like the paper problem-solving for out of class time."
Motivating Faculty Mindset
How can faculty get started with the entrepreneurial mindset?
"Pick a thing and start small!" Erin says. "An activity, a concept; also, take faculty development workshops and go to the KEEN National Conference. At the first KEEN Conference I went to, I was immediately struck by being surrounded by incredible people who are research faculty, teaching faculty, all with a similar dedication and passion for students and student learning. In academia, it's really hard to find the balance between your research, teaching, and service, and also where to find the institutions that align with how you want to do all that. This community provides another opportunity for that values-alignment. If you aren't getting it at your institution, you can from this large network. "
Erin is still in touch with people from that first conference, and from the first workshop she did, Making with Purpose. "Everyone is so supportive and enthusiastic. When you're drained and tired, you can draw energy from them. That was my favorite part of the Community Catalysts meetings. Being in a virtual room with other people excited about the same things you are. Even if you don't agree with how to do those things, there's still such a positive energy."
Speaking of being an Engineering Unleashed Community Catalyst, Erin has enjoyed doing modules in the character development space. "When I was a Catalyst, one of the roles I did at Wake Forest was to do a card review for my colleagues. For anyone doing these character modules, I would do their card review to make sure those pieces were as useful and impactful as they could be. And then we worked on developing the modules themselves."

With the post doctorates on the character development project, Adetoun Yeaman and Joe Wiinikka-Lydon, she created an ethics module, and recently presented it at ASEE. "This ties to the character virtue framework and I'm pretty proud of it!"
And with Lauren Lowman, she created an initiative called Hidden STEM. "We have a website with open access to some of our curricular pieces, and also developed new content aimed at quick, easily shareable infographics of minority contributors to STEM fields. One of my research students is an Engineering & Art double major. She's now working on painting portraits of our next series of contributors."
"When you're in academia, you're surrounded by brilliant people," Erin says. "And I'm always shocked by how many of don't know their own brilliance. My favorite thing to do is to be their hype. It may sound cliché, but I run on energy that comes from hyping other people up. People have such great ideas. If you don't know how great you are, I will tell you this every day until you get it! Colleagues, students, whoever. I'm never the smartest person in the room but that makes it an awesome room to be in (for me!)."
Rising Star Projects
Let's take a look at what Erin is thinking of doing with her award funding.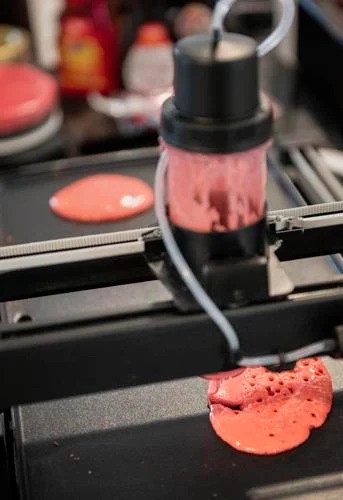 "I bought a pancake printer - it prints pancakes! - and I'm developing more food-based curriculum in a serious light. I had a high school summer intern looking at red blood cell morphology (different shapes of red blood cells), which is in my research area. She was researching the different shapes and how they're affected by treatments. For her presentation she had pictures, but we also configured the pancake printer to print red blood cell pancakes. If the audience answered a question correctly, they got a red blood cell pancake! Even if they don't remember the name, they'll remember what it looks like and what it tasted like."
(Image: PancakeBot programmed to make red blood cell shapes at a demonstration for a project during the Wake Forest University's Lab Experiences: Academics and Professions (LEAP) program's symposium on Friday, July 29, 2022, at Wake Downtown in Winston-Salem, N.C.)
"I'm trying to find interesting, surprising, and unusual ways to teach engineering, and to create a bank of them," Erin continues. "Then if others want to give a demo in class, they'll have a kit ready to go. I got the idea from AnnMarie Thomas and her concept of Playful Learningat one of the KEEN conferences. I'm tying concepts like these into things I'm passionate about, like food."
Why Entrepreneurial Mindset Matters for Engineers
"I've always thought of what I did as an engineer as creative."
"I took it for granted that creativity was part of engineering," Erin says, "because I always thought it was a built-in part of it! I didn't even know it was a problem to be solved. It wasn't until I started looking into engineering education where people are trying to have engineers be more creative that I knew it was a problem to be solved."
Being intentional and not taking it for granted are key - which goes along with the entrepreneurial mindset. "People drawn to engineering innately have those qualities of innovation, creativity, problem-solving, and thinking about opportunities for providing value. What I've realized is there has to be intentionality behind it or they don't know they're doing it. By having a framework like the 3Cs, you're providing that intentionality. And be very deliberate about telling the students, 'This is what you are doing; you are doing these things.' It's innately part of the day to day of engineering. They just don't know it is."
It helps to understand the distinction between entrepreneurial mindset and entrepreneurship. "Even faculty will use the terms interchangeably. Entrepreneurship is a very specific money-making thing, and that's okay, but make sure you and your students are clear on the difference. Mindset is bigger than entrepreneurship."
Closing Thoughts
What advice would she give students?
"Who do you want to be? What do you want to do? What do you want to look at as your accomplishments? Figure that out, and then align your activities to those things."
Any more advice for faculty?
"You don't have to go straight from using the binder to throwing it out. Pick one thing that doesn't sit well with you. I hated taking exams as a student. I got the same pit of anxiety as an instructor giving exams as I did taking them. I realized, I control this class! I can ditch exams! So what can I do other than exams? Start out with one of your own pain points or something small or localized as a foundation point."
Erin leaves us with this thought. "Be transparent. Keep a feedback loop open with your students. Tell them you're trying something new, tell them why you're doing it, and to let you know how it's going. Ask them questions about how they're experiencing things. Your students will feel they have agency and a voice in how the course is going. This lets you readily correct things if they're going down a path you don't want them to go. While at the end of the day, you do have to worry about course evaluations, that kind of feedback loop transparency gives students a better idea of you as an educator."