Another pivot happened over the pandemic - with an unexpected corollary. "Like pretty much everyone else in the world, I had to move my classes from in-person to remote. While this change was extremely stressful at the time, I was really proud of the approach I took, which really prioritized student wellbeing above all else."
What about these days? "I taught entirely remotely (to both in-person and remote students) for all of the 2020-2021 academic year, and I found the transition back to in-person to be extremely challenging! Last semester was my first semester teaching First Year Clinic II in person with in person students since spring 2019. It was rough. My daily check-ins with a Zoom poll or using Mural did not translate well in-person. I've been working on how to integrate some of those online tools that get students to work together into the in-person world."
Kaitlin credits the Experiential Engineering Education (ExEEd) department at Rowan for being truly dedicated to creating the best experience possible for engineering students.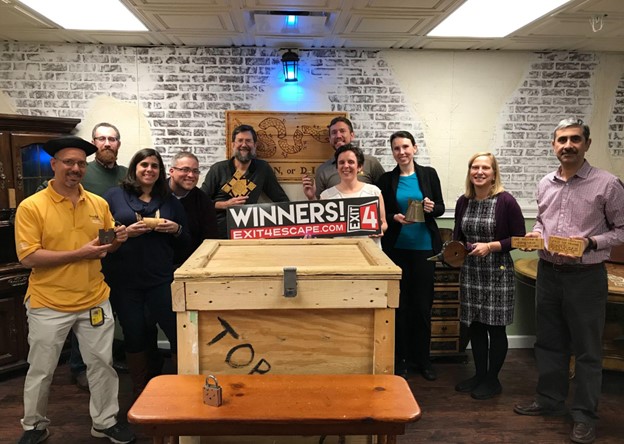 [Image: Members of the ExEEd department conquering an escape room in 2018!]
"During the semester we meet weekly to discuss how our class offerings are going, and between semesters we often make major and minor changes to our projects as a form of continuous improvement. Beyond ExEEd, I have been a member of the steering committee for the Rowan Teaching Connection since 2014. This is a group that provides on-campus professional development to Rowan faculty and staff in the area of pedagogical excellence. One of the best things we do in this group is have a student panel at our Fall conference so that we can get our students' perspective on our conference theme. We always learn so much from the students in this setting!"

How does the ExEEd department find the time to organize these meetups, let alone attend them?

"Our department is unique: All of us are teaching the First Year and Sophomore Clinics, so all of our energy is going into those classes. Most of us don't have other classes to focus on. We also have a culture of continuous improvement, and a leadership structure. The courses have course coordinators who pay attention to the changes that need to happen and facilitate those changes."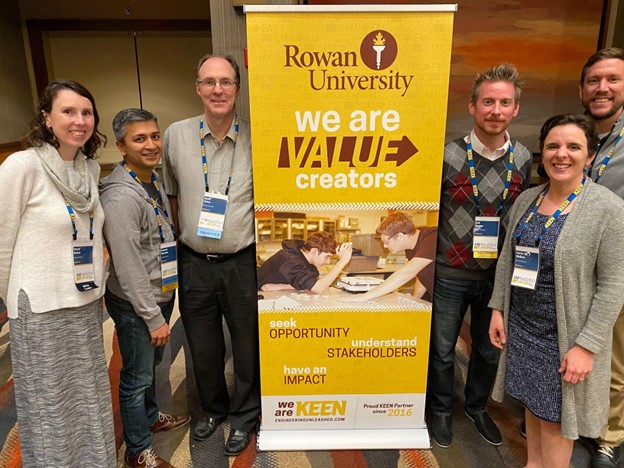 [Image: Rowan colleagues at the 2020 KEEN National Conference]
Motivating Faculty Mindset
For someone who embodies the entrepreneurial mindset, what did Kaitlin think when she first heard the term?

"I was initially very skeptical about the entrepreneurial mindset," says Kaitlin. "I think, like many folks, I associated 'entrepreneurial mindset' with starting a business. I come from a long-line of small business owners on my dad's side and had actually taken Introduction to Entrepreneurship and Engineering Enterprises as a first-year at Cornell, but it was much more about finance than innovation or the 3Cs."
So what happened to change her mind?
"I think the synergy with my own work and the entrepreneurial mindset really came when I joined the Community Catalysts. Being part of that group allowed me to see what others were doing and really internalize what folks in the Network mean by 'entrepreneurial mindset,' and recognize that much of my approach to my career shows evidence of having such a mindset."
How else has she benefited from being part of a larger community?
"So many opportunities have come my way having been part of KEEN!" Kaitlin enthuses. "I've met some really fantastic people who feel like kindred spirits, first through my time as a Community Catalyst, and then later as I started helping with Faculty Development Workshops. I also appreciate having a community of people who like to spend time thinking about improving the classroom experience for students; it's always easier to get things done with friends!"
[Image: Learning about Accessible Design at University of Washington's DO-IT Center's Capacity Building Institute in 2017. This workshop led to the creation of a project for First-Year students focused on Universal Design.]
Rising Star Projects
What is Kaitlin hoping to do with her Rising Star funding?
"I have a few ideas floating around right now. One is exploring the long term impact of faculty development workshops." This is a project Kaitlin is pursuing with Cheryl Bodnar (Rowan): How do engineering faculty members apply entrepreneurial mindset professional development within their faculty careers?
"In our preliminary results, we've seen that faculty members who embrace the entrepreneurial mindset - specifically searching for opportunities for change and seizing them - tend to make more frequent changes to their classrooms, thereby keeping up with the pace of change in the job market. We have also seen that these faculty members are investing more effort into larger-scale changes and projects. Interestingly, while these changes are made primarily for the benefit of the students, these faculty members have also expressed that making frequent changes and investing more energy keeps their own interest and passion strong."
Does it seem that faculty don't easily see the connection between how embracing the entrepreneurial mindset for their students' sake also benefits them as faculty?
"I know that when I make changes it's about the students, but I wouldn't make them if it didn't feel right or fun for me, which is probably why most faculty don't innovate their stuff - or only wait to change if something was a disaster."
What's Next for Kaitlin?
"This year I won't be teaching first-years or sophomores for the first time in my career (entering my 10th year!), so I don't have any new projects for the courses I normally teach in the wings. But I am very excited to be teaching Effective Teaching in Academic, Corporate and Government Settings to our graduate students and thinking about the best ways to engage them with developing their own teaching styles."
In Closing: Why Entrepreneurial Mindset Matters for Engineers
"The entrepreneurial mindset helps students design for a world beyond their own world view."
Kaitlin illustrates this further: "From curiosity - wanting to understand how others will be impacted by what you do and design, to creating value: Who are we creating value for? Just our corporation? The greater good? - there are a lot of pieces of the entrepreneurial mindset that fit into the paradigm of engineers thinking beyond the technical. For awhile, so much emphasis was on math and science being the whole thing. But everything - human beings, the Earth, animals - is impacted by your math and science; it doesn't exist in a vacuum."
Any final advice for students?

"Most people can do the technical stuff. It's the people who have a different worldview or approach that stand out. Having an entrepreneurial mindset is a distinguishing feature of really good engineers."
How about for faculty just starting out with the entrepreneurial mindset?
"You don't have to redo everything at once! It's okay to change just one assignment, or just one week of class, unless of course you're planning to change everything anyway. Small steps are fine. Don't feel obligated to do all the things. There is so much available on Engineering Unleashed that is literally a class period or less."