Another pivot happened over the pandemic - with an unexpected corollary. "Like pretty much everyone else in the world, I had to move my classes from in-person to remote. While this change was extremely stressful at the time, I was really proud of the approach I took, which really prioritized student wellbeing above all else."
What about these days? "I taught entirely remotely (to both in-person and remote students) for all of the 2020-2021 academic year, and I found the transition back to in-person to be extremely challenging! Last semester was my first semester teaching First Year Clinic II in person with in person students since spring 2019. It was rough. My daily check-ins with a Zoom poll or using Mural did not translate well in-person. I've been working on how to integrate some of those online tools that get students to work together into the in-person world."
Kaitlin credits the Experiential Engineering Education (ExEEd) department at Rowan for being truly dedicated to creating the best experience possible for engineering students.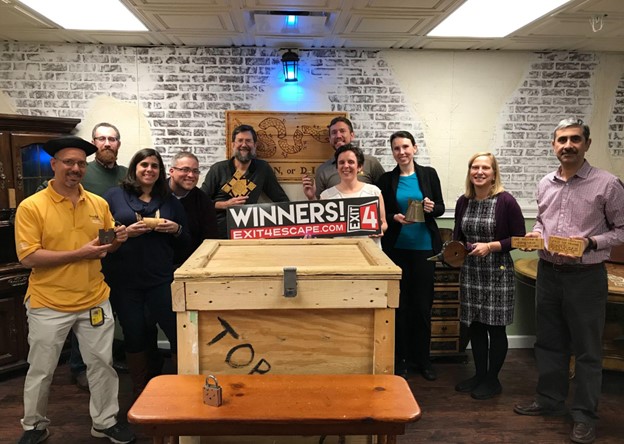 [Image: Members of the ExEEd department conquering an escape room in 2018!]
"During the semester we meet weekly to discuss how our class offerings are going, and between semesters we often make major and minor changes to our projects as a form of continuous improvement. Beyond ExEEd, I have been a member of the steering committee for the Rowan Teaching Connection since 2014. This is a group that provides on-campus professional development to Rowan faculty and staff in the area of pedagogical excellence. One of the best things we do in this group is have a student panel at our Fall conference so that we can get our students' perspective on our conference theme. We always learn so much from the students in this setting!"

How does the ExEEd department find the time to organize these meetups, let alone attend them?

"Our department is unique: All of us are teaching the First Year and Sophomore Clinics, so all of our energy is going into those classes. Most of us don't have other classes to focus on. We also have a culture of continuous improvement, and a leadership structure. The courses have course coordinators who pay attention to the changes that need to happen and facilitate those changes."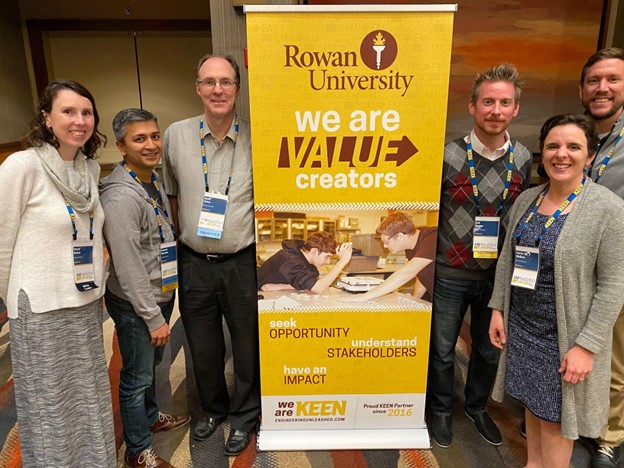 [Image: Rowan colleagues at the 2020 KEEN National Conference]